In the world of hair loss, the most varied work situations are encountered and specific products exist to solve the critical issues of each of them. Today we are analyzing the MultiWork fall arrest device, a product that allows you to operate safely on machinery or tankers and designed to be repositioned where necessary.

But what is this product?

The MultiWork is essentially a revolving ballasted flag, the arm of which is made up of a fall arrest rail.

The first of the advantages of this system is constituted by the fact that the connection point of the PPE to the system is a sliding shuttle. It moves horizontally along the arm of the device, with the result that the anchoring point remains positioned above the operator's head, preventing the so-called "pendulum effect" from occurring in the event of a fall, that is a movement in which the operator swings uncontrollably, with the risk of hitting other objects and causing injury.

Another advantage deriving from the fall arrest rail used as an arm, is that given by the continuity of service, i.e. the fact that, with special shuttles that run parallel to each other, two operators can work independently, guaranteeing a high level of autonomy and ergonomics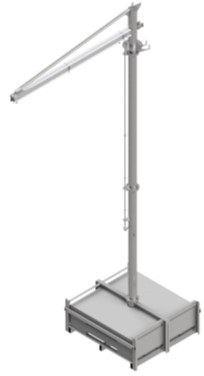 To ensure high fluidity in the rotation of the arm, a roller bearing is positioned under

the head of the device that allows the operator to move freely at 360 °.

Furthermore, to prevent the upper part from rotating in an uncontrolled

way during assembly, disassembly and handling, a bolt locking system is provided.