Domestic environments are a danger factor that should not be underestimated and accidental falls from above are a risk that cannot be ignored.
Employees who work on terraces during the installation of awnings, air conditioning systems or fixtures often find themselves working in elevated positions with respect to the railing, thus exposing them to the danger of an accidental fall.
Although the lifelines they use are able to guarantee protection against falls, they are sometimes difficult to install and in most cases create real unsightly injuries in various parts of the building.
Spider has patented an innovative device, the SUN200, portable and light (18 kg), it can be easily transported with its special bag and can be assembled in just 3 minutes. The SUN200 pole, positioned vertically and perpendicular to the floor, exploits the distance between the latter and the ceiling to create a stable and safe anchor point.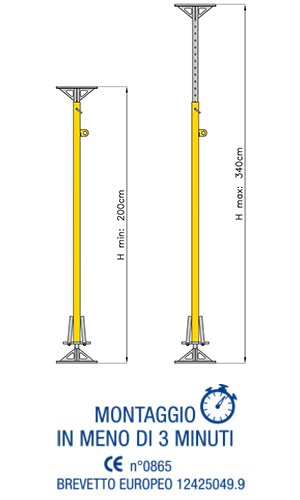 By turning a special screw, the pressure that is created between the ceiling and the floor allows you to use the pole reliably without the need to drill and without using special tools.
A protective and washable sheath placed at the ends of the pole protects all contact surfaces, when the work is finished the pole leaves no sign of use.
With a recent homologation, up to two operators connect to the SUN200 at the same time, working in extreme conditions.