Correct design and installation of a lifeline does not stop only at the suitable positioning of the anchor points and the verification of the fixings, but ends with an adequate preparation of the accompanying documentation.
Among the elements that compose it we have the access signs, or a plate, generally plasticized, which shows at least the following contents:
A warning to consult the contents of the anchoring system file;
The date of the next inspection or the date of the last inspection together with the expected frequency of the inspections;
A warning not to use the anchoring system if the inspection has not been carried out.
These phrases are in the Technical Standard UNI78: 2015 in paragraph 6, reporting the requirements of the marking of the devices.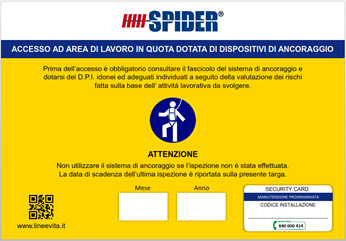 It is important to identify the access point prepared by the designer because, in the vicinity of this, there are anchor points, which allow you to reach the main lifeline safely. Accessing from a different point means obliging the operator to cover a portion of the roof without any fall protection device, exposing him to the risk of falling from above.
Finally, the access plate facilitates, during the periodic inspection phases, the identification of the manufacturer of the fall arrest system who can provide the documentation relating to the lifeline in the event that this is no longer available.
However, the obligation to affix the access sign is delegated by local legislation. In fact, what is described above is reported in a Technical Standard. As such, however, its application is voluntary, even if recommended.
However, within some regional regulations this accessory is mentioned, as for example in the Decree No. 119/2009 of the Lombardy Region where it is stated that "in the area of ​​access to the roof, suitable identification signs are placed".