In previous articles, we have already discussed the topic of confined spaces, what they consist of and what specific training operators need to undertake in order to work safely in them.
This time, however, we focus on the essential equipment needed to ensure that a worker can enter and leave a confined space safely.
Remember that confined spaces are defined as places with limited access openings and unfavourable natural ventilation.
Environments where a major accident, leading to serious or fatal injury, may occur in the presence of hazardous chemical agents (e.g. gases, vapours, dusts).
THE LIFELINE
It is clear that all these spaces are not designed to be occupied permanently by people, nor intended to be, but on certain occasions, such as inspection, maintenance or repair, cleaning, installation of technological devices, they may be occupied temporarily.
In these cases, it is necessary to have specific equipment and facilities available to enable the operator to work safely when descending, parking in confined spaces and ascending.
Among the fall protection PPE used for confined spaces are the following:
Tripod;
Crane;
Winch;
Retractable type fall arresters.
The most commonly used anchorage system is the tripod, thanks to which, in combination with fall arrest and recovery systems, the safety of those working inside a confined space is guaranteed.
THE CRANE
However, a tripod is not always the right solution, as several factors work against it: difficulty in extracting the victim, excessive weight and space requirements, and difficulties in positioning on uneven ground. The classic tripod cannot be used without a support surface and access limited by the tripod base.
The next step is to use the device known as the Crane. A device that looks like a small crane capable of intervening when the tripod is not suitable or ergonomic.
Able to rotate 360 degrees and "lock" its position by means of a convenient pin, the crane is able to hook one or two operators and allow them to descend, ascend and recover without any type of danger and keeping them safe.
SPIDER lineevita's constant commitment to research and development of new products dedicated to safety at work has generated this innovative fall arrest system, with the name Hung Light, dedicated mainly to confined spaces.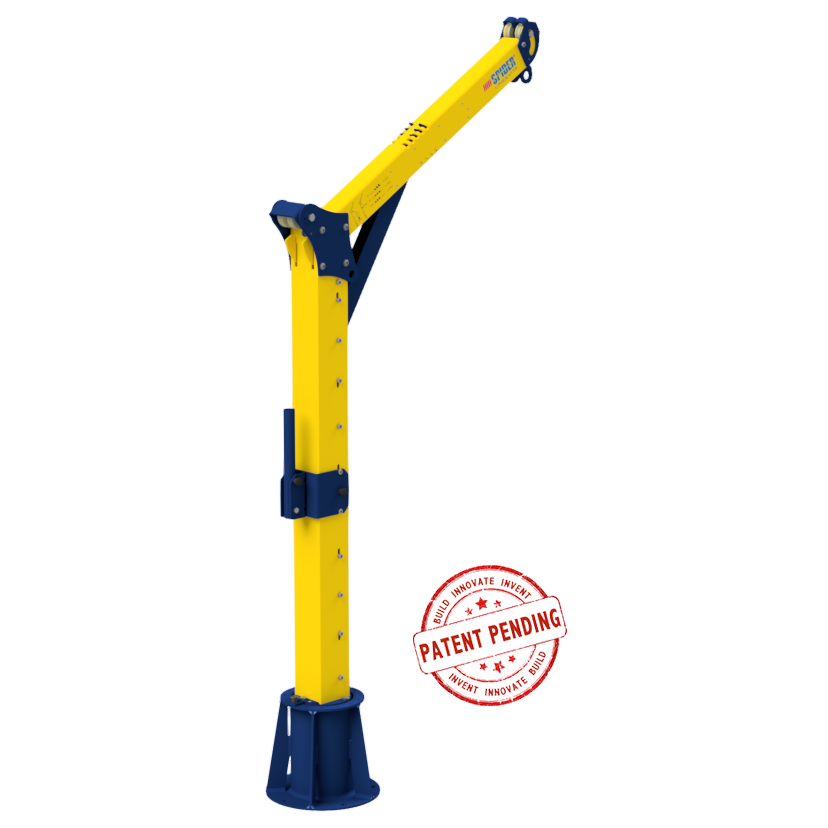 Light and versatile Aluminium crane whose peculiarities are:
Weight from 13 kg;
Maximum dimensions during transport from 1 m;
Total absence of interlocking pins;
Adjustable arm with 3-way adjustment mechanism with ultra-fast commissioning;
CE certified for 2 operators
Being certified for two operators also allows the operator manoeuvring the device to be protected from possible falls from height.
Moreover, unlike other products, the Spider crane consists of a single, telescopic, interlocking component, which allows easy handling and commissioning.
These are the features that make it a competitive product on the market.