The theme of waterproofing of roofs, primarily for flat ones, is a topic much discussed during the realization of a work according to the critical issues that can arise from an incorrect execution.
The waterproofing techniques of the roofs have also reached a very high technological level that allows to guarantee a seal over time thus reducing maintenance costs.
Therefore, during the installation of an anti-fall device, this aspect becomes predominant during the design phases of the system and the identification of the most suitable anchorage for the technological stratigraphy of the roof.
Spider Lineevita, with its Research & Development office, has designed a new fall arrest device that does not require anchors on the roof but bases its static on ballast of various kinds.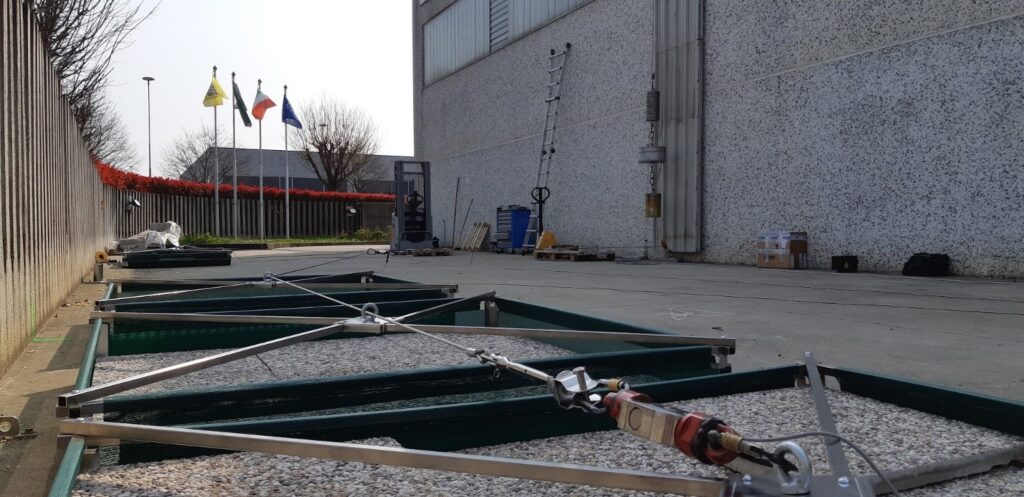 The peculiarities of this device are:
First of all, the versatility of the ballasts. In fact, materials of various kinds have been tested so that the end customer can buy only the frame and ballast it with what is available, always respecting the requirements and indications present in the manual drawn up by the manufacturer. Examples of ballast are: grit tiles, bags with inert material, bulk gravel, ballast with water, concrete pouring on site;
The device also has a size that tries to combine compactness, to reduce the footprint on the roof, and a minimum footprint to distribute the weight of the ballast on the roof;
The device has a double certification. In fact, it is CE marked according to the Regulation of Personal Protective Equipment, therefore it can be placed before processing and removed at the end of the activity. Or it is marked as a device EN795:2012 Type E / C and can be left on the roof as an anchoring device at the service of maintenance activities.
Spider's ballasted lifeline, called SILEX, can be convenient, brilliant and ingenious to avoid creating technical interruptions in  the waterproofing layer of the covers.
Contact us, without any obligation, for further technical or economic information.